Forget-Me-Not plants symbolize true love. The forget-me-not flowers are a medium, "true blue". And as the name suggests, they are given or used to decorate gifts with the hope the recipient will not forget the giver. It also symbolizes faithful love and memories.
In Newfoundland, Canada, the flower is worn on the 1st of July in memory of the deceased during World War I.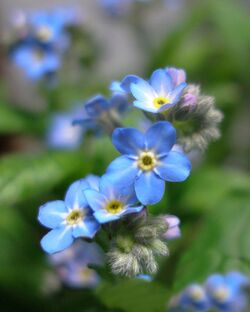 Related

This article is a stub. Please help Symbolism Wiki by expanding it.
                                                                       Mythology/ Folklore

In a German legend, after the earth was created, God went to each plant and animal and gave each a name. As God finished and was getting ready to leave, he heard a little voice at his feet saying "what about me?" He bent down and picked up the little plant whom he had forgotten, and said "Because I forgot once, I shall never forget you again, and that shall be your name."
The Christ Child was sitting on Mary's lap one day and said that he wished that future generations could see her eyes. He touched her eyes and then waved his hand over the ground and blue forget-me-nots appeared, hence the name forget-me-not.
In another legend, the little flower cried out, "Forget-me-not!" as Adam and Eve left the Garden of Eden.
In Mill's "History of Chivalry," is given another story of origin with less happy ending. The lover, when trying to pick blossoms of the myosotis for his lady-love, was drowned, his last words as he threw the flowers on the bank being "Forget me Not."
Another theory suggests because the leaves taste so bad, once you have eaten them, you will never forget them.