A peony represents wealth and honor. They also embody romance and love, and are regarded as the omen of good fortune and happy marriage. It is also the state flower of Indiana, and the 12th wedding anniversary flower.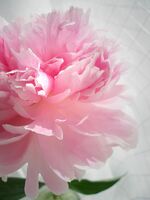 History
Greek mythology
The mythology around the peony has many versions. One legend tells that the peony is named after Paeon, a physician to the gods. He received the flower on Mount Olympus from the mother of Apollo.
Another myth tells the story of that same physician who was saved from the fate of dying as other mortals. He was turned into the flower known as the peony.
One more story links the peony to the moon. It was believed that the moon goddess created this flower to reflect the moon's beams during the night.
Chinese symbolism
It is known as mudan (牡丹) in Chinese and is an important symbol in Chinese culture. During the Qing Dynasty (1644 -1911), the government in 1903 appointed Paeonia suffruticosa as China's national flower. However, with political shifts and other factors, its title as the national flower was later replaced. In 1929, the plum tree was granted the title of national flower by the government at the time.
Despite its loss of political status, Paeonia suffruticosa maintains cultural significance. In China, it is generally known as the "king of flowers", symbolizing honor, wealth, and aristocracy, as well as love, affection, and feminine beauty. The tree peony has been frequently portrayed in significant Chinese works of literature and art.
Superstitions
During the Middle Ages, "lunatics" were covered with the leaves and petals of this flower. It was believed that this would cure them. Also, it was considered unlucky to dig up this plant.

About an infants neck hang peonie. It cures Alcyeds cruell maladie. This plant also prevents the mocking delusions the fauns bring on us in our sleep.

- Pliny
It was believed that by keeping peony seeds under your pillow at night, you would not experience any nightmares.